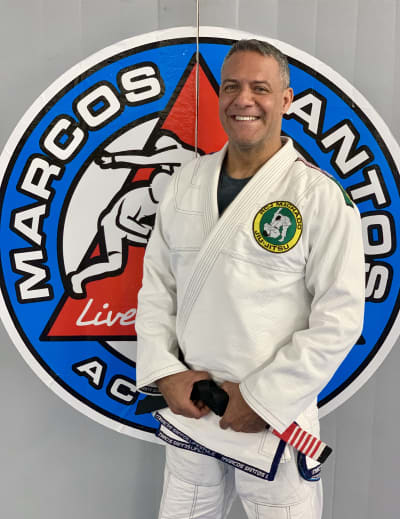 Marcos Santos
Master Santos was the east coast representative for the Machado brothers, nephews of Grand Master Carlos Gracie Sr. and Grand Master Helio Gracie. Marcos began training Gracie Brazilian Jiu Jitsu at the age of 7 and has had the incredible opportunity of training with many of Brazil's top instructors. The philosophy of Gracie Jiu Jitsu is within every aspect of his life, not just as a method of combat. He believes that a healthy lifestyle, which includes proper nutrition and a positive mental attitude, must be the base from which self-defense and self-awareness begin.
With over 40 years training in Brazilian Jiu Jitsu and almost 20 years in running an academy in the USA, Marcos has achieved a level of experience that few can match. Since opening his first NYC academy in 1997, he has taught a wide range of students from ages 5 to 72.
Giving back to the community is of the utmost importance to Marcos. In addition to teaching at his own academy, he has conducted over 200 seminars for a variety of organizations including the NYPD, FWPD, US Navy, professional law enforcement, military personnel, and security. He has participated in career days in Fort Worth ISD schools, established bully prevention programs, and after school programs to supply young people with a positive environment to grow as individuals.
Marcos' NYC academy, located across the street from the World Trade Center, was shut down due to the terrorist attacks on September 11, 2001. He subsequently moved to Fort Worth, Texas where he owns and operates Marcos Santos Academy. He strives to build a team of tough competitors not only on the mat but in life.
He received his fifth-degree black belt under the Machado brothers and is humbled by the opportunity to change peoples' lives and grow as a human being.