RCJ Machado NO-GI Invitational
Saturday April 13st, 2019.
REGISTRATION CLOSES 04/12/18 AT 8:00 PM
EVERYONE MUST REGISTER VIA EVENTBRITE
NO SAME DAY REGISTRATIONS - NO EXCEPTIONS.
EXCLUSIVE FOR RCJ MACHADO AFFILIATES AND THEIR STUDENTS
SEE BELOW FOR RULES AND DIVISIONS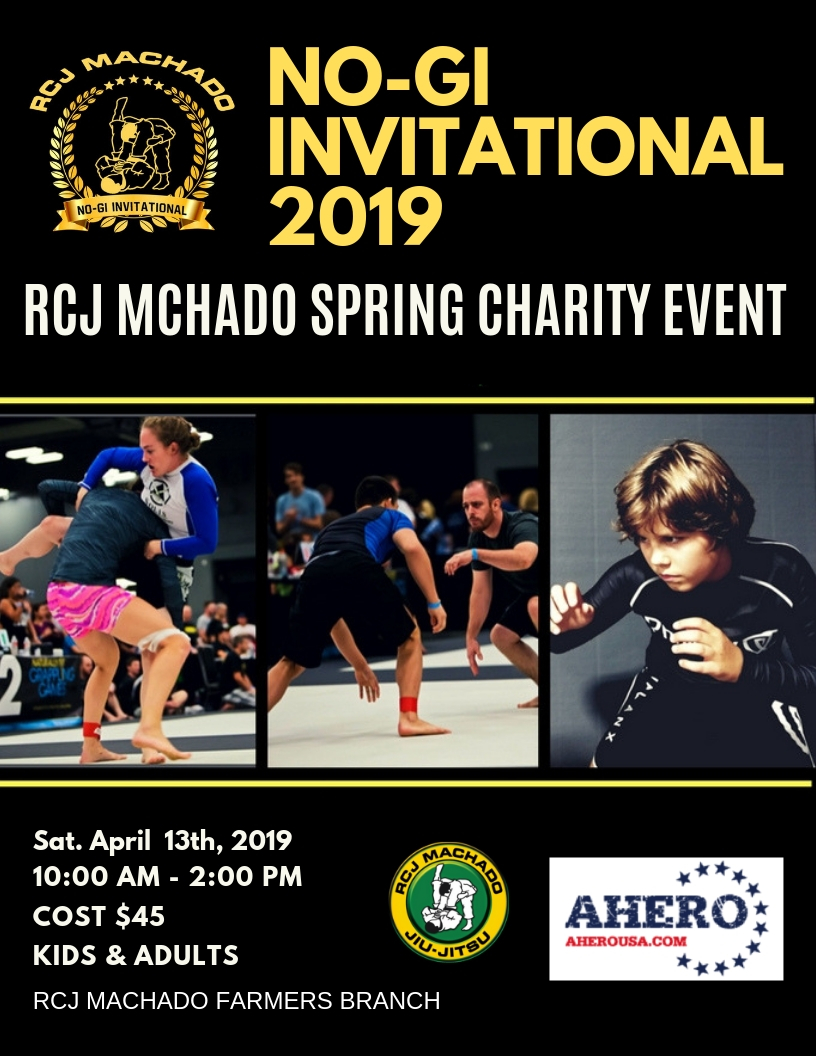 It will be held at RCJ Machado Farmers Branch academy and the students from all the other RCJ Machado Academies will be coming together for a little friendly competition.
Give you all a chance to meet other RCJ Machado students, A great oportunity fot those of you who love to compete a chance to compete on the cheap, and for those who have been hesitant to compete a chance to get your feet wet amongst BJJ brothers and sisters with your instructors as the refs (a more safe less intimidating environment)
All donation of $45 to enter and compete. ALL donations will be donated to AHERO Foundation
Heroes Helping Heroes
AHERO (America's Heroes Enjoying Recreation Outdoors) connects Veterans with patriotic members of local communities by organizing outdoor events and social activities. Our goal is to heal the physical and psychological wounds of war and military service by:
Introducing Veterans to resources and programs available to them to increase their overall quality of life

Developing an informal support network of Veterans across the country

Encouraging constructive communication and engagement

Boosting morale
AHERO was organized and is operated by OIF and OEF Marine Corps and Army Veterans who understand the challenges today's war Veterans face in reengaging the civilian world.
More than 95% of every dollar raised by AHERO goes directly to Veterans in support of this mission with a small percentage allocated to administrative expenses. The directors and staff of AHERO are all volunteers and do not receive any monetary compensation in any form.
AHERO was conceived and founded by Captain Lee Stuckey, U.S. Marine Corps (Active Duty). Captain Stuckey has served three combat tours in Iraq, and is currently at Camp Lejeune, NC. Capt. Stuckey has been awarded the Purple Heart (for wounds received in Iraq), Bronze Star, Navy and Marine Corps Commendation Medal with a "V" device for Actions of Valor during combat, Outstanding Volunteer Service Medal, Combat Action Ribbon and other military ribbons/medals for outstanding service.
Lee suffered a brain injury from an Improvised Explosive Device (IED) in 2007. Lee's brain injury, coupled with the emotional trauma of several combat deployments, led him to the edge of suicide. Lee was tired of dealing with the nightmares and stress and put a gun to his head. As he was pulling the trigger, his cell phone rang and displayed the word "Mom." He immediately dropped the pistol and realized he needed help.
As a Marine Corps Officer, Lee realized that if he was struggling with psychological issues, thousands of Veterans must be silently suffering in similar ways. Lee began to visit Walter Reed Hospital and other military hospitals across the country and connected with the servicemen and women that he met at these facilities. He was deeply affected by the severity of the physical and emotional injuries that so many servicemen and women had endured. Approximately 22 Veterans a day are committing suicide to put the yearly average at a horrific 8,030 a year. Lee's new mission was to lower these numbers by sharing his story and reaching as many Veterans as possible, before it was too late.
RULES
KIDS RULES
A) NOVICE-POINTS-3 MIN MATCHES
START ON THEIR KNEES

TAKE DOWN 2 POINTS

PASS GUARD 3 POINTS

SWEEPS 2 POINTS

TOP MOUNT 4 POINTS

BACK MOUNT 4 POINTS
ESCAPES:
SIDE CONTROL 2 POINTS

MOUNT 2 POINTS
WEIGHT DIVISIONS
BY AGE AND APROPROXIMATE WEIGHT AND SIZE
B) KIDS ADVANCE AND MASTERS & TEENS SUBMISSION ONLY
START ON THEIR FEET

UP TO MIN SUBMISSION ONLY

AFTER 5 MINUTES IF A DRAW 3 ATTEMTS EACH- FROM MOUNT AND BACK MOUNT

SUBS AND ESCAPES BOTH COUNT, THE ONE WITH MORE SUBS AND MORE ESCAPES WINS.
SUBS ALLOWED
ARM LOCKS, KEY LOCKS, KIMURA, LAPEL CHOKES, RNC CHOKES
NOT ALLOWED:
NO TWISTING, NO SLAMMING, NOCRANKING OR NECK OR BACK.
ADULTS AND MASTERS
Submission Only
Time Limits
Kid's 5:00 Minutes
Adults: 7:00 Minutes
Tie Breaker:
2 Minutes Increments
After 2 tie breakers the winner may be choosen by the refree, if one of the opponents has demostrated superior position and agression.
NO SLAMS

NO HEEL HOOKS

NO STALLING

NO HAIR GRABBING

NO GRABBING OF THROAT

NO FISH HOOKS

KNEE BARS ARE ALLOWED ONLY ON THE ADVANCE DIVISION
Kid's Division
Check in 8:00 AM

Event starts at 9:00 AM
Adult Division
Check & Weight-In 11:00 AM

Event Starts 12:00 PM